3 Minute Read:
The American Board of Obstetrics and Gynecology (ABOG) recently announced a new Focused Practice Designation in Minimally Invasive Gynecologic Surgery (MIGS). The American Board of Medical Specialties (ABMS) approved this program within the specialty of Obstetrics and Gynecology.
In May 2021, experienced MIGS surgeons who met ABOG's stringent requirements were given the opportunity to take an examination that would designate them as experts in complex MIGS procedures.
What Does Focused Practice Designation in MIGS Mean?
Satisfying the requirements and passing the examination recognizes that expert gynecologic surgeons, who devote their practice to minimally invasive gynecologic surgery, have the necessary skills and knowledge to perform complex surgeries safely and effectively.
Until recently, minimally invasive gynecologic surgery was not recognized as a specialty. However, there are now fellowships for gynecologic minimally invasive surgery at various medical schools around the country. In fact, Dr. Steve Yu helped start the UCLA Minimally Invasive Gynecologic Surgery Fellowship. Currently, Dr. Yu continues to train surgeons nationwide in minimally invasive procedures and conducts research projects in MIGS.
Dr. Steve Yu, MIGS Specialist and Board-Certified OB/GYN
Dr. Yu is board certified in Obstetrics and Gynecology. In May 2021, he was a member of the first exclusive group of surgeons with the Focused Practice Designation as a MIGS specialist. He is now recognized by the American Board of Obstetrics and Gynecology as a qualified specialist in Minimally Invasive Gynecologic Surgery. Specifically, Dr. Yu is an expert in laparoscopic, robotic, hysteroscopic, and vaginal surgeries. He is one of few surgeons in Southern California with this recognition from ABOG.
Why Choose a MIGS Specialist?
Before undergoing any surgery, it is important to choose a surgeon who is an expert in their respective field. Traditionally, gynecologic surgeries required large abdominal incisions.
However, with the advent of small fiber optic video cameras, surgeons are capable of performing the same procedures with very small skin incisions or sometimes with no incisions at all. Patients benefit from the minimally invasive approach by extremely fast recovery, less surgical complications, and less postoperative pain.
Because minimally invasive surgery is a highly specialized skill, patients want to be sure their surgeon is equipped to handle complex surgical situations.
Choosing a MIGS specialist ensures your surgeon is qualified to optimize the outcome of your surgery safely. Over the years, Dr. Yu has successfully performed numerous MIGS procedures that have helped change women's lives for the better. He was one of the first surgeons to perform minimally invasive myomectomies, minimally invasive urinary incontinence procedures (without using mesh material), and the Acessa procedure for fibroids. He also offers minimally invasive hysterectomies if absolutely necessary.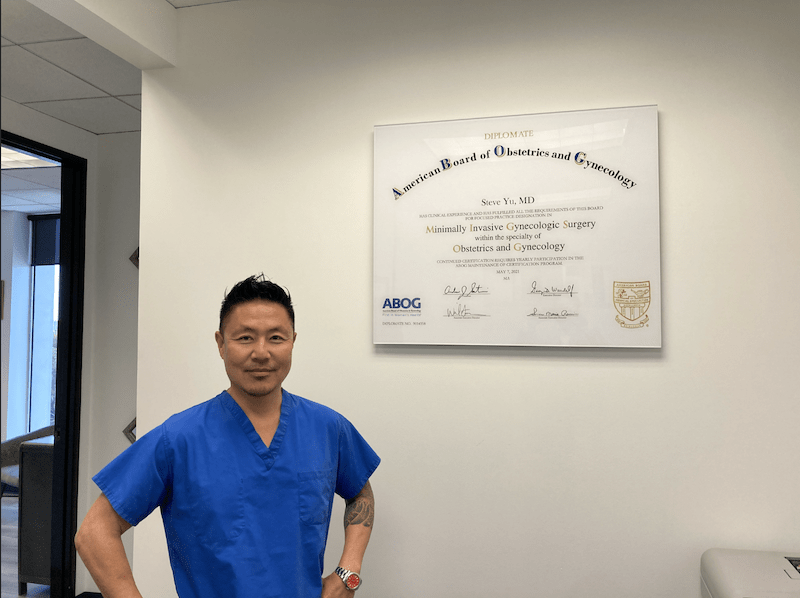 Interested in Learning More About MIGS?
If you are interested in learning more about how Dr. Yu can successfully relieve you of uterine fibroids or urinary incontinence, please contact our Newport Beach office by calling 949-432-4017 or filling out our online contact form.
What Other Procedures Does Dr. Yu Offer?
Dr. Yu also offers vaginal rejuvenation procedures such as labiaplasty surgery and vaginal reconstruction surgery for women looking to improve their vaginal function and appearance.